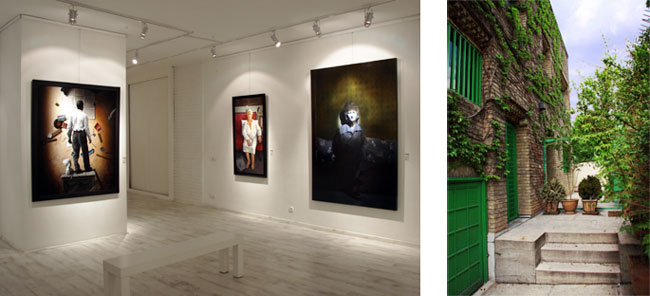 為西黑德蘭唯一的藝廊,其擁有者兼執行長曾以策展人身分活躍於1998至2005年的藝術圈。此藝廊於1990至1998年間曾為許多著名藝術家及雕刻家辦展的空間,亦展出許多新一代藝術家的作品;令人感到愉悅且充滿活力的藝術空間,結合經營經驗與專業,有望成為黑德蘭最好的專業藝廊之一。
Siin Gallery is an amiable bright exhibition space in western Tehran; in fact, the one and only art gallery in the area: the building is attractive, covered with ivy and the architecture inside is fluid. Although it is not a long time since this gallery has started working under the current name, there is a long history behind it: Ms Saideh Lotfi, the owner and director, ran another gallery from 1990 to 1998 in exactly the same place.Though Lotfi lived abroad from 1998 till 2005, she stayed active and didn't lose contact with the art scene in Iran; she participated in the curatorship of different exhibitions of works by Iranian artists, including two exhibitions in the Netherlands, The Hague, the Kunst Krijcht Gallery and Pulchri Studio, in 2001 & 2002.
The pleasant and dynamic space of Siin Gallery combined with its director's experience and expertise will hopefully establish it as one of the best professional art galleries of Tehran.
In those years, many renowned artists and sculptors held their solo and group exhibitions in this space. The works of the artists of this generation will continue to be shown in Siin Gallery along the works of younger generations.
原文出自 Siin Gallery 官方網站,由社團法人台灣視覺藝術協會整理翻譯。
Text in this page is originally from the official website of Siin Gallery and has been translated and altered by AVAT.